Office of the President
President Kelly Damphousse
10th President of Texas State University
Hopes & Aspirations High
A Vision for the Future of TXST
There's a lyric in our alma mater that really resonates with me. I feel it's especially timely for TXST: "O, Alma Mater, set upon the green hills, with turrets pointing upward to the sky, we yield to thee our love and our devotion; mother of hopes and aspirations high." Hopes & Aspirations High reminds us of our noble, higher calling to keep students at the heart of all we do. It captures the potential and promise ahead for them and for those of us who have made helping them succeed our life's work.
– President Kelly Damphousse
Two Pillars Define our Hopes & Aspirations High: Elevate Student Success and Run to R1.
Drivers of Change
Commissions, Task Forces, Work Groups
President Damphousse launched commissions, task forces, and a work group to enhance key focus areas in the pursuit of Hopes & Aspirations High. These groups are one of the mechanisms that will bring about change and new initiatives to advance our goals.
Faculty and Staff Insight
Input from faculty and staff is critical in our pursuit of Hopes & Aspirations High. The presidential commissions, work groups and task forces have been intentional in soliciting input through a myriad of methods, including focus groups, surveys, and meetings with leaders who represent staff and faculty groups. Later this spring, we'll share additional ways faculty and staff members can share ideas that address our goals, outside the established groups.
Strategic Planning
Initiatives related to achieving the Hopes & Aspirations High vision support TXST's mission and complement the university's strategic plan and planning process. We temporarily paused completion of the strategic planning process in order to integrate our newest strategic imperatives into the plan and to better understand our financial situation after legislative session. Planning deadlines will be adjusted so we can build a bold, achievable plan that reflects the recommendations of the commissions and task forces, the restructuring of university functions, and legislative session funding outcomes.
Guiding Principles At-A-Glance
Bold and Transformative
Data Driven and Evidence Based
Strategic
Inclusive and Collaborative
Transparent and Candid
Dismantle Silos for Connected Goals
Phased and Incremental
Do More in Some Areas and Less in Others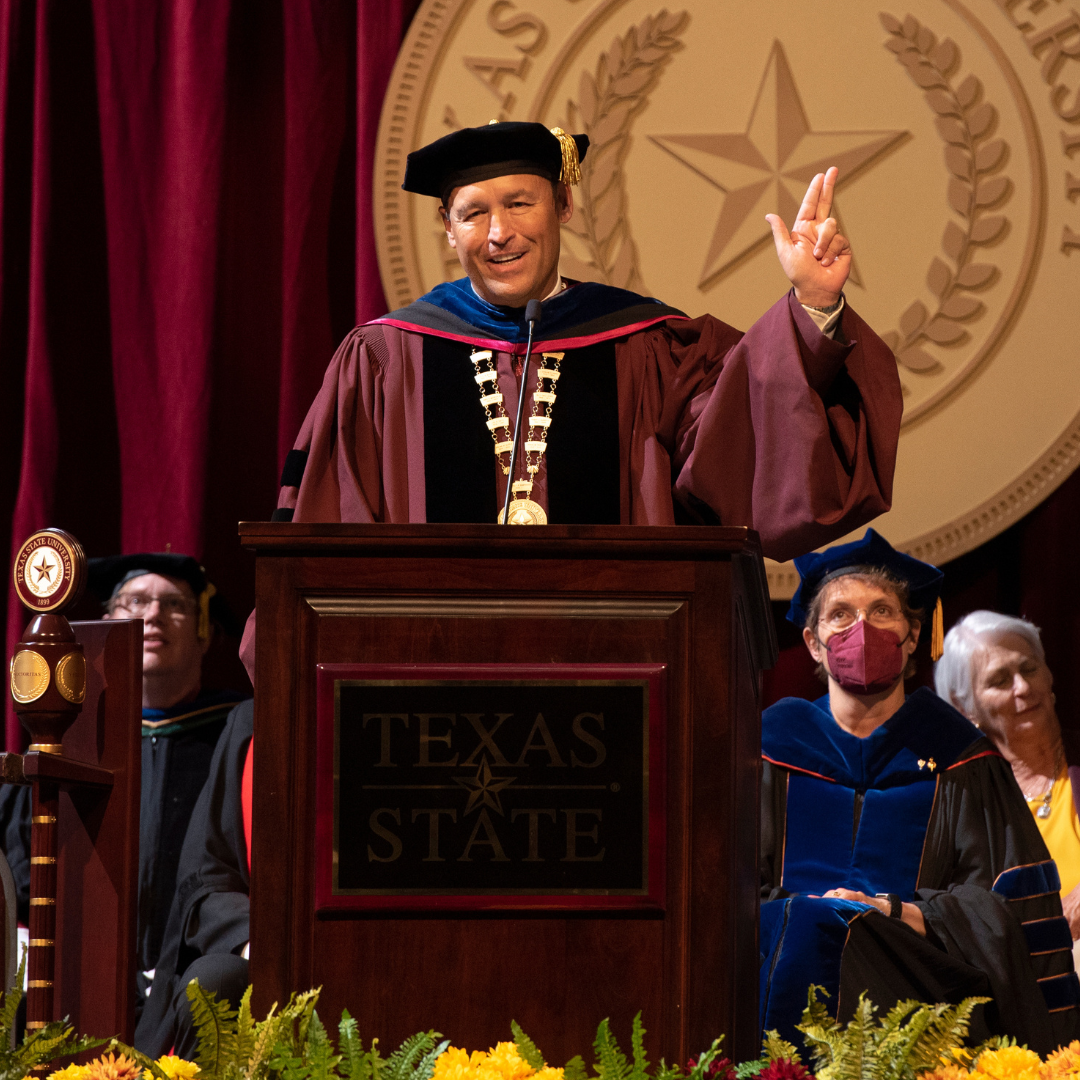 "We are on a thousand-mile journey in the pursuit of Hopes & Aspirations High. So far we've trekked about six miles. We've already made tremendous progress toward our goals and have taken bold steps to bring our vision to life."

- President Kelly Damphousse
Actions Taken and Latest Updates
Stay informed on the latest developments and steps TXST has taken in the pursuit of Hopes & Aspirations High.